Posts for tag: bonding
By William Ralstin, D.D.S.
November 30, 2018
How cosmetic dentistry from your dentists in Fort Worth, Texas, can help your smile
If you aren't proud of your smile, it's time to rejuvenate it with cosmetic dentistry services. No matter what bothers you about your smile, there is a cosmetic dentistry procedure to help you and your smile look great! Call Drs. William Ralstin and Lindsey Horwedel in Fort Worth, TX, to achieve a smile that you a smile you can be proud of!
More about Cosmetic Dentistry
Cosmetic dentistry can help brighten your smile with a professional whitening treatment. Consider professional teeth whitening if your smile is yellow, stained, or dull. The results are dramatic, often whitening smiles up to 8 shades whiter. The results last a long time too, even up to 5 years! It's time to stop using over-the-counter products and choose professional teeth whitening to give you a bright smile that lasts!
Cosmetic dentistry can also repair your damaged teeth with dental bonding. Consider dental bonding to repair or reshape the contours of your teeth if they are broken, damaged, or just poorly-shaped. Bonding uses composite, a unique liquid resin that can be matched to the color of your teeth, and sculpted into shape to form natural, beautiful contours. The resin is hardened with an ultraviolet light so the result is a strong, hard, tooth restoration treatment. Recontouring and reshaping is often done in conjunction with bonding to create a more harmonious smile that is uniquely yours.
Through porcelain veneers, cosmetic dentistry can additionally give you a dramatically improved, gorgeous smile. Consider porcelain veneers to change the color and shape of your teeth, as well as to hide minor alignment problems in your smile. Veneers are thin laminates of sparkling porcelain that are cemented onto the front surfaces of your teeth to hide issues like cracks, chips, or fracture lines. They can even hide tooth overlap and gaps between your teeth to give you a perfect smile!
Professional teeth whitening, dental bonding, and porcelain veneers are just a few of the many cosmetic dental services available to give you a great-looking smile. To find out more about cosmetic dentistry, call (817) 926-8700 for Drs. William Ralstin and Lindsey Horwedel in Fort Worth, Texas today!
By William Ralstin, D.D.S.
February 02, 2016
Do your teeth have small chips or cracks, slight discoloration or other minor imperfections? If so, Fort Worth cosmetic dentist William Ralstin, DDS has just the solution for you: dental bonding. Read on to learn all about this exciting procedure and then call the office of Dr. Ralstin to set up your appointment today.
How Does Dental Bonding Work?
Dental bonding improves your teeth's appearance by using tooth colored resin to make small but impactful changes. This resin is the same resin that your Fort Worth cosmetic dentist uses for fillings, except that with dental bonding, the change is cosmetic, not functional.
Dental bonding is a quick and easy procedure that your dentist can complete in one office visit. First, your dentist will consult a shade guide to find just the right color of bonding material for your teeth. Then he or she will slightly roughen up your tooth's surface in order to help the bonding material stick better.
Next, the dentist will place the bonding material on your teeth, shaping and molding it carefully until it looks just right. Once everything is in place, your dentist will harden the bonding material with a special light.
What Imperfections Can Dental Bonding Fix?
Dental bonding can be used to fix a number of small imperfections, including small chips and cracks, narrow gaps and even discoloration. It can be used to lengthen short teeth or to change a tooth's shape, especially when used in combination with teeth contouring.
What are the Benefits of Dental Bonding?
While dental bonding isn't the only cosmetic procedure Fort Worth dentist Dr. Ralstin provides, it does offer a number of important benefits. For example, dental bonding is quick and inexpensive and can often be completed in as little as one office visit. The procedure is non-invasive and pain-free so no anesthesia is needed. It requires little preparation and you get real, visible results right away.
When your smile simply needs a few minor corrections, don't opt for lengthy, invasive procedures. Get the quick, easy and effective treatment you need today. Visit your Fort Worth cosmetic dentist Dr. Ralstin for tooth bonding.
By William Ralstin, D.D.S.
July 23, 2014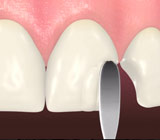 Q: What exactly is cosmetic tooth bonding?
A: Cosmetic bonding is a process in which your dentist uses specially formulated tooth-colored material to repair minor defects on the surface of your teeth. The bonding material itself is a type of composite resin — a tough, translucent mixture of plastic and glass components that mimics the pearly-white appearance of your teeth to a high degree. The material also bonds (links up) so well with the natural tooth structure that this relatively simple and inexpensive treatment can last for a number of years.
Q: What types of defects can tooth bonding repair?
A: Bonding can be used to remedy several different kinds of flaws in your smile. Small chips, cracks and areas of discoloration can be easily treated via cosmetic bonding. It can even be used to fix minor spacing irregularities. Best of all, because composite resin is available in various shades to match the natural color of your teeth, it's almost impossible to tell which tooth has been treated.
Q: What are the pluses and minuses of cosmetic bonding?
A: Bonding is a procedure that can be done right in the dental office, without involving a laboratory — that's why it is typically an easy, cost-effective treatment that can be accomplished in a single visit. It's a great solution for restoring minor flaws that don't extend very far into the tooth's structure. It's also ideal for teenagers, who may have to wait until they stop growing before getting a more permanent restoration. But bonding normally isn't as long-lasting as some other restoration techniques, such as veneers or crowns. However, with proper care, a bonded tooth can keep looking good for years.
Q: What is the bonding procedure like?
A: Bonding is a minimally invasive, reversible treatment that normally causes little or no discomfort. The tooth being treated is first thoroughly cleaned, and then "etched" with a gel that microscopically roughens its surface. Next, the gel is rinsed off, and liquid composite resin (in a shade chosen to match the tooth) is painted on with a brush. Then, the bonding material is cured (hardened) using a special light. After it has cured, another layer may be applied; this process can be repeated several times to build up a thicker coating. Finally, a dental instrument is used to shape the built-up material into its final, pleasing form.
Q: Do bonded teeth require special care?
A: Not really… but like all teeth, they should be brushed and flossed daily, and professionally cleaned at the dental office twice a year. Bonded teeth can also become stained from tobacco use, red wine and coffee — but unlike regular teeth, bonded teeth can't be lightened. So if you're considering tooth-whitening treatments, have them done before your teeth are bonded.
If you have questions about whether cosmetic bonding could help your smile look its best, please contact us or schedule an appointment for a consultation. You can learn more by reading the Dear Doctor magazine articles "Repairing Chipped Teeth" and "Artistic Repair Of Front Teeth With Composite Resin."