Posts for tag: sedation dentistry
By William Ralstin, D.D.S.
February 02, 2016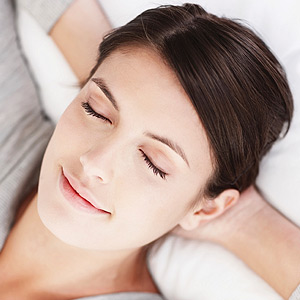 Eliminating pain and discomfort is one of our major objectives during dental treatment. To that end, our profession has developed a number of anesthetic drugs and deliveries that ensures your experience in the dentist's chair is as pain-free as possible.
But there's another experience many people have with dental care that's different from physical discomfort — emotional anxiety. These negative emotions can range from nervousness about a procedure to extreme fear. Very often the patient has no control over these emotions — they've become imbedded from earlier experiences or the influence of others.
Although each can influence and heighten the other, anxiety and physical discomfort are different and require a different approach. Physical pain and sensation is eliminated through anesthesia, either locally through topical application or injection or generally through intravenous medication that renders a person unconscious. Anxiety, on the other hand, requires first building a trustful relationship with an understanding dentist. But it may also call for certain drugs that sedate — promote a feeling of relaxation — rather than numb sensation.
We've incorporated a number of sedative medications in dentistry like Valium or Ativan that work well to reduce anxiety before and during treatment. Many are taken orally, usually just before scheduled treatment, and they dissipate from the system quickly afterward. Some medications also have "amnesic" qualities, meaning you won't remember anything or little at all about the treatment period. This can be helpful in amassing positive treatment experiences that may diminish negative feelings you've developed about dental treatment.
It's important, though, to find the right types of medication that work well for you. For that reason we'll take a thorough medical history, including prescription or over-the-counter medications and supplements you're taking and any medical conditions you may have. It's also important to discuss your diet (certain foods can inhibit the action of some sedatives) as well as if you use tobacco or regularly drink alcoholic beverages.
Taken properly, oral sedation can effectively reduce your anxiety during treatment. As a result, it will be much easier and pleasant for you to receive the care you need for a healthy mouth.
If you would like more information on reducing anxiety during dental treatment, please contact us or schedule an appointment for a consultation. You can also learn more about this topic by reading the Dear Doctor magazine article "Oral Sedation Dentistry."
By William Ralstin, D.D.S.
July 15, 2014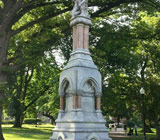 The next time you're visiting Boston, why not make time for a stroll in the city's renowned public garden? It's got a little something for everyone: acres of greenhouses and formal plantings, a picturesque pond where you can go for a paddle in swan-shaped boats, and the first (and perhaps the only) statue dedicated to an anesthetic gas.
Yes, the Ether Monument (also called "The Good Samaritan") is a vaguely Moorish-looking sculpture that commemorates the first use of anesthetic in a medical procedure. This ground-breaking event took place at nearby Massachusetts General Hospital in 1846. But if it seems that perhaps the park designers were feeling a bit light-headed when they commissioned this statue* then just think of what it would have been like to have a tooth drilled without it!
Today, of course, ether is no longer used for anesthesia; that's because medical science has developed far better ways to make sure you don't feel pain when you're having a procedure. However, we do still use a gas for people who need a little more help relaxing during dental treatment. It's called nitrous oxide, but sometimes goes by the nickname "laughing gas."
This sweet-smelling gas, mixed with oxygen, is often administered in a process called inhalation conscious sedation. It doesn't put you to sleep — you can still follow directions and respond to verbal cues — but it makes you very comfortable, and may even induce a slightly euphoric feeling, which wears off quickly when the gas is stopped. That's what makes it ideal for some dental procedures: It's quite effective for people who might otherwise have a great deal of dental anxiety, yet it's quick, easy and safe to administer — and you can usually drive yourself home afterward.
Sometimes, however, you may need even more relaxation — for example, if you're having multiple wisdom teeth extracted. In this case, it may be best to use intravenous (IV) conscious sedation. Here, the precise amount of medication you need is delivered directly into your bloodstream via a tiny needle. As with nitrous oxide, you'll remain conscious the whole time, but you won't feel any pain — and afterward, you probably won't remember a thing.
Sedation dentistry has come a long way since the days of ether… but making sure you don't feel pain or anxiety remains a critical part of what we do. Before a procedure, we'll talk to you about what type of anesthesia is best — and if you have any questions or concerns, we'll work with you to make sure you have the best experience possible. If you would like more information about sedation dentistry or relieving dental anxiety, call our office for a consultation. You can learn more in the Dear Doctor magazine articles "Oral Sedation Dentistry" and "Sedation Dentistry For Kids."
By William Ralstin, D.D.S.
July 01, 2012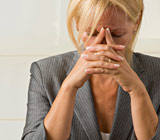 If you fear a visit to the dentist, you are not alone. Studies have shown that up to 75% of people surveyed have some fear of dental visits, and 10 to 15% fear the dentist so much that they avoid any dental treatment. This can have serious repercussions, leading to toothaches, infections, and loss of teeth. Poor oral health can even negatively affect your general state of health.
Here's the good news. Even people who are the most afraid of the dentist can learn to reduce their fear and feel calm and safe during a dental visit.
Dental fears develop when people have bad dental experiences. For many, the problem is a sense of loss of control. Sometimes, fears are based on stories people have heard or even movies they have seen.
The feeling of being afraid reinforces your fear. If you experience the rapid heartbeat, sweaty palms, tensed muscles, and other symptoms of fear while in the dentist chair, you are likely to remember these unpleasant feelings afterward and become even more fearful. In order to reverse this process, you need to begin to associate dental visits with good experiences and a sense of control. Here's how we can help you do this:
Know that you are not alone and we are here to help you.
Talk to us about your fears. We are sure to listen and not be judgmental. If you don't talk about it, you can't get over it.
We will start by doing things that cause only mild or no anxiety. We want each visit to be a good experience, so you are able to leave our office with a feeling that it was okay, and you can do it again.
Our goal is for you to overcome your fear. We will make this a priority and that priority is as important as "fixing your teeth." We will be happy to talk about the time and fees associated with your treatment so that you can overcome your fear and gain a sense of control of the situation.
It took a while for your fears to develop, so you should realize that it will also take a while to get over them. We will spend as much time as you need to get over your fears and will not rush you into doing anything for which you are not ready.
Contact us today to schedule an appointment to discuss your questions about any fears you may have. You can also learn more by reading the Dear Doctor magazine article "Overcoming Dental Fear & Anxiety."